Zara Stein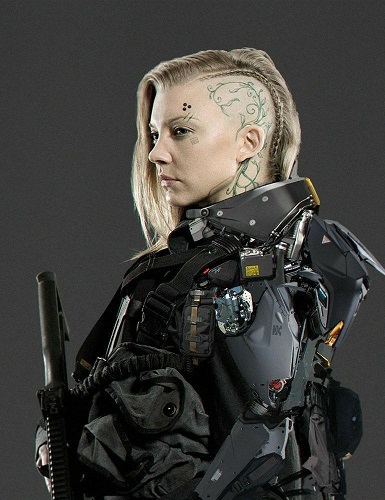 Zara awoke from her deep sleep. She felt heavy and still exhausted from the past few days. She stared at the ceiling of her room, not daring to move from her cot. She took a deep breath, and exhaled slowly. She had the urge to sit up, but couldn't find the energy to do it. The words "exiled" kept bouncing around in her head. She had lost her home, Phoenix Prime, the war torn world. Though, it had lost its once blue beauty, its still home. Many years ago, Phoenix Prime had been ravaged be a nuclear war. Yet, people survived the war. They rebuilt their home and soon, the Joevak Empire had been born.
Yet things had changed overtime. The newest ruler, Saanvi. Had changed things back to a Militaristic Fascist state. Saanvi had accomplished this task by taking over politically, and swaying the peoples minds. Using the current Pirate War propaganda, she showed how the need for "Order" is needed. Zara, and a section of the Military rebelled against Saanvi. The conflict only lasted 4 hours before the rebellion had been quelled. Zara, escaped with a few others. Yet, only her ship made it this far into space.
She had become the sole survivor of the old Joevak Empire. A legacy she vowed to return to her people.
Zara, finding the strength to sit up, she sat on the edge of her bed. Glancing over on the 3-D monitor, she could see she had entered a new system. This one is currently on the Joevak's system map, but it hasn't been explored yet. She had no idea if this system was under the control of pirates. That was something she didn't want to deal with. Getting dressed in her combat uniform, she walked towards the ships cockpit. Flipping on a few switches, she began to release "pings" that released from the ship. She began to look for a habitable world to land on. If she was ever going to get revenge on Saanvi, she had to prepare. Though, being alone made that near impossible. All she really needed was a "full proof" plan.
Upon the monitor, alarms began to ring as the scans had picked up ships; along with a space station. She immediately turned off the scans, and "Went Dark". She knew that once she picked up a Station, that station would have noticed they had been scanned. Zara was not expecting a station to be out within the nearby system. "Pirates built a base? This far out?" she said, mumbling to herself. The ship flew just off course to were the civilizations station had been located.


Weight shifted against the frame of the chair; a metallic golden position that was a poor excuse for a throne. None the less, Nykyrian nestled in it's caress, arm propped up to rest his head, staring blankly ahead as the array of individuals sifted through information like normal.

The terminal was not a recent build; in fact they had extensions in the space around them for centuries, as it was a necessary step against the Anatola on the nearby satellite. However, with the peace treaty, -- the use for such a construct dwindled. Instead it serviced as nothing more than a lookout, and he was placed in charge of it for the time being.

"Why has father punished me?" he mumbled to himself, disgusted at the fact he had to survey work that could be done by any of the nine generals. The idea of receding into his quarters crossed his mind, going as far as pushing his body to stand up. But his eyes followed the source of a sudden voice.

"Archon Nykyrian, sonar scans have picked up a small craft en route."

"Is it the Anatola?" The typical question to that alarm.

"No, its unidentifiable. We don't have its general make up in our database." An eyebrow peaked in curiosity to this new development. They did not have outsiders often, but it was inevitable, -- the universe was vast, and they lied on the outside of a system.

"Send out a message," she said before walking closer down the bridge. Through the opaque glass he set his sights on the countless stars, unbeknownst of just what and who he would have the pleasure of meeting today. Perhaps for this reason alone his father decided to give him this position.

Following his order, a message would be sent out to the incoming vessel. At first it would appear in the language of Planet Eos, but then it would shift into common tongue after being translated. Simply saying, 'State your Name, Rank, and Intention.'

Nykyrian and his crew eagerly awaited a response before being willing to guide them to dock.


She sat there, hoping that they would investigate the original location of the scan. Her hopes crashed as the Station instantly located her position, and tried to communicate with her. She sat up in her seat, listening to the foreign language. She looked confused at first, only later did the language then switch to her peoples language. She looked at the words coming across the screen. 

She smirked at the old dialect. A language that hasn't been used in a very long time, back when they used to live on Earth. Though, she still understood the older dialect, this also brought up another question. 

How did they know her peoples older dialect?

She kept her ship going at the same course, on a  diagonal course that kept its distance from the fleet and Station guarding the sector within the System. She opened coms, but only typed back. She knew better then to start with open dialect. The only message that responded to Nykrian, "Alone. Name...N/A."

She stood up from her seat and walked to the far corner of the room, adjacent from the cockpit. Opening her weapon safe, and taking out her firearm. It hummed slightly as she turned on the weapons energy source. The weapon itself held a similar style to the old world Barrette  Rec 7, yet it fired a new form of energy ballistic rounds. Energy infused with a regular bullet. Yet, it still held the same size as a 5.56 mm ball type.

Grabbing the rest of her gear, she was unaware of the warning light that appeared on the screen of her ship. Her engines were overheating.
"NA? What is that?"
he asked his lieutenant who seemed just as bewildered. Glancing over the text in confusion, he was aware their translator was not always correct, but something like this was foreign. Despite that, it seemed their passerby was not the co-operating type. A soft sigh left his lips as he contemplated his next message.
Nykyrian's impatient captain looked to him,
"We can not scan the craft until it is within rendering distance. We do not know what kind of cargo it could be carrying. It could be a trap. If it would be something explosive --,"
a quick hand gesture was enough to silence the man's tongue.
"Let us not get carried away,"
Nykyrian said passing a glance to his uneasy crew,
"Prepare for the inevitable outcome, for better or for worse."
A custom that went back centuries, they believed in equal oppourtunity and did not judge without cause. With that order, men and women in the terminal prepped for all possibilities. Arming themselves with their blades, while others executed the procedures for medical care and emergency maintenance.
They would soon find out if they were really alone.
'If you have no intent, malicious or benign, then divert your course.... but we have supplies if desired. We could escort you aboard. From the starboard docks.'
"You invite them in?!"
roared his captain, his voice echoing against in the metallic chamber. He was an older Vasilli, though that did not mean much compared to his complexion. Their race was used to living for centuries, and this one was maybe only twelve decades older than Nykyrian, but he wouldn't let the Archon live it down.
"Be still Orious. You said it yourself, we can not scan the contents of the craft until they are within distance."
Zara made her way back to the cockpit, and soon realized the growing emergency on her ship. Quickly getting in the captains seat, she opened a 3D window that revealed the damage to her ship. The back engines were damaged from her escape from the Joevak controlled system. Another "ping" pulled her attention as the "aliens" continued to communicate with her. She quickly glanced over it, and saw they were welcoming her to the station. She narrowed her eye's and expected this to be a ploy.

She never met anyone this friendly to strangers. Her instincts told her that this was only a ploy to scan her ship, they must not have long distance scanners. A loud "boom" shook her from her thoughts as the left engine exploded. Pieces of the ship scattered in every direction. Smoke now flowed from the back end of the ship, and pushed it on course towards a planet. Controls to the ship were now, offline. Alarms now blared throughout the ship, and she had been through against the side of the cockpit, smashing the side of her face against the wall. "Fuck..." she grumbled as she slowly pulled herself back to the cockpit seat. Blood flowed down the right side of her face, and soon she became dizzy.

Using the remaining energy she had left, she buckled herself in, and secured her safety harness. Slowly, she closed her eyes, passing out. The ship now began to spin clockwise; a final explosion followed. Propelling the ship faster towards the planet. On close inspection of the ship, there is obvious evidence that the ship had survived a fight. Scars from energy and ballistic rounds covered the front of the ship.

The ship soon entered the planets atmosphere, falling towards the ground at an accelerated rate. It soon crash and bounced on the ground, until it grinded to a halt. The crash shook Zara awake, by instinct or just the shear will to survive. She pulled the emergency hatch to pop the cockpit cover. Crawling out, but only stumbling and falling out of the cockpit as she crumbled to the ground. She laid there, staring at the sky. Her weapon, now rested to her right.


"Archon the craft is off course."

"What?"

"It's on approach towards Eos, but it's too fast. It's going to crash."

Looking at the screen, he saw the projected ship swiftly spiral into their atmosphere, knowing full well there is nothing he could do for them on his end. He could enter his own vehicle to head to the surface, but even that would take woo much time. "Where is the suspected landing location?" he asked his LO, who had likely already been calculating that same outcome.

"7 units from Azyz Ila," he started, turning face to look at his commander, "in the ravine. If they live it wont be for long. The Drakes are territorial, --"

"Contact my sister. Retrieve the craft and the foreigner," he started before walking towards the exit, "and ready my vessel. I'm sure father wont take to this and I need to be there to talk him down of whatever callous decision he makes." With that he left the centre, walking down the long hall to his private craft. He would be home soon, but hopefully his flesh and blood had already left to recover the crashed.




After receiving her brother's request, it didn't take long for her to assemble a small team and get on their racers. The distance to the crash site was nothing to scoff at, but they would make it in decent time, smoke pluming from the fallen craft as she crossed the length. Stopping shy of the tattered vessel her guard readied their aim at the stranger, to which the princess greeted with her indigenous tongue. "Bring it to the palace, and put it in the vaults. On my brother's orders."

Nebula eyed the creature, noting their similarities, but differences as well. In it's hand was a projectile weapon, but hopefully they would be smart and not turn this site into a battlefield where they are badly out numbered.




She crawled, slowly towards her weapon. Gripping the butt-stock of the weapon, only to be distracted by voices appearing behind her. She slowly turned her head to acknowledge the people behind her. She immediately took note of the men armed with their own weapons. She tossed her weapon in front of her and slowly raised her arms. As she raised her left arm, they could see that it wasn't normal, in fact her left arm is cybernetic. The rank of Master Sergeant pinned to her coat collar.

She said nothing, and only listened to what they had to say. She glanced over their weapons, posture, body language, and the female that seemed to be leading the group. She then began to take note of her surroundings, and any possible escape route. She slowly tried to stand up, but her left knee popped loudly. She hit the ground hard, wincing in pain. She knew she was banged up, but a knee injury that prevented her to walk would cost her.

She had no escape. She would cooperate with the "Aliens", even if they had strikingly similar features to her people. Though, how much could she trust these people? Would they probe her for information? Would they resort to torture? For now, she wouldn't say anything to the "Aliens". Keeping to her Military Intelligence training, she would keep silent. As her Brigades motto, "Silent Warrior" meant a lot more to her than most.

She glanced back at her ship, though most of it is now in pieces, the symbol of the Iron Phoenix rested on the side of the ship. She narrowed her eyes, and silently glared at the symbol. She then looked back at the woman, giving her a look of defiance. Refusing to say anything.


The alien was smart. Tossing aside it's weapon and raising it's hands in surrender, it appeared to be compliant, despite the obtained injury from the crash. "Carry her," Nebula ordered before moving towards the shredded starship. Rummaging through the metal frame she carefully looked for anything that could be of use. A central mainframe, memory cards, diagnostic tools, etc. In what she deemed to be the remains of a cockpit, the princess began to unassemble what was left of structure, pulling wired controls from the docking. 

From the horizon echoed a high pitched roar, which gave away the identity of the beast it belonged to. They were in the middle of Fjord Drake territory, and their scent had been caught. Any remains of the spaceship were likely to be devoured by the large beasts, so obtaining anymore data from the rubble was a useless endeavor. 


"We leave now," she said before watching two officers move in towards the alien. They would bind it before carrying it to one of the racers they drove to the crash site. It had ample room in the passenger seat for the injured foreigner, who would have still been chained to the craft via an available metal hook installed in each of the vehicles. 

Unbeknownst to Nebula and her people, their designs for travel were similar to that of Earth; however more sleek, compact and were obviously powered by different substances. Holographic screens portrayed mapping, scans, and other information displayed in their native language. They too used an alphabet of comprised lettering to represent words of their language, though the strokes of the hieroglyphs were less distinctive.

The ride back to the palace was less than a few minutes, but the distance crossed was quite large in comparison. Arriving in the capital led them to drive into an subterranean tunnel which acted as a storage unit for similar typed vehicles. It was also only a few paces from a lift that would carry them upwards to the throne room where Nykyrian stood at a window waiting for his sister and their visitor.

Nebula's entrance into the room followed with her approaching her brother. "The otherworlder isn't an Anatola, however I am not sure this is much better. There is an obvious language barrier, though we recovered many pieces from the crashed ship which could later help us. If we can pull any sort of conventional method of communication from their logistics programs then perhaps the Omnilex can provide us with a translation."

"That will take a few days at least," he responded before looking back at the remainder of company, including the alien. "It is injured, take her to Medical and place her in a pod," he asked before running his hands down his cloak. "I suppose I will tell father about the situation before he finds out elsewhere. Watch over it sister."



Inside the medical ward was an array of laid out pods designed for humanoid frames. They were more organic than cryopod studies; having a biologic structure comparable to that of a tree and vines. They were used to treat wounds from minor to severe, promoting rehabilitation at the same time. Some cases led to the pods being obsolete in practice, but for practical matters, there was nothing better. 

Inside patients were put to sleep via a gas before undergoing treatment, the length of which depending on the severity of the injury obtained. Perhaps it would be in interest to keep the prisoner asleep while they deciphered it's language. Standing guard nearby, Nebula waited for word from her brother concerning the condition of their father's decision.




She made no effort to fight the "aliens" while they took her into custody. As they took her hostage, she made note of anything she could. She made mental notes on their language, their equipment, their body language, and anything else that would be valuable. She glanced back at the people that went through her ship wreckage. She knew that she had nothing to worry about these "aliens" finding out anything about her people. They only thing that they would find is mentions of the "Jovak Empire" and the Symbol of her people's flag.  A small smirk came across her face as the on-board computers before crash landing, would have wiped all the important data, especially her name. She refused to give these "aliens" any information. She said nothing as they grabbed her, she said nothing as they took her on their ship, and she said nothing as she flew with them.
She also took note of their ship, the technology it used, and how it worked. Of course, the difference in language made it difficult, but there are somethings she caught onto very quickly. She soon felt faint from the loss of blood, due to her injuries she acquired from the crash. She fell passed out on the ride back to where ever she was being taken too. Soon, she awoke again, to her, it felt like only a few seconds. Logically, she knew she probably been out for maybe 2 hours.
That was an issue, since she lost out of possible data on the "aliens". She found herself within a chamber or a pod. Obviously, she assumed this is how these people keep their prisoners. Yet, she had done nothing entirely wrong to them. Another possibility is that she's being healed. A chance that this pod is a medical device. She glanced around the room and made note of everything she saw. From her observations, she could tell she is within a medical facility. There were other pods just like hers in the room. Other people were inside the pods, but she noticed that everyone within the pods were asleep. What she assumed were doctors, were walking around and checking on the people within these pods.
"Are they keeping these people purposely asleep?" she thought to herself.
If they were, her synthetic and cybernetic enhancements were keeping her awake. Flooding whatever they put into her system, back out. A faint whistle filled her head as a headache began to slowly overcome her. Her eyes slightly began to glow a faint purple, she soon began to hear the people. As quickly as it came, it went away. She shook her head and squeezed her eyes at the same time. Not thinking on what had just happened. She had to focus on one thing, getting out.
---
Permissions in this forum:
You
cannot
reply to topics in this forum